Nominate a Charity

Charities Being Presented At The Next Meeting

WE ARE CURRENTLY ACCEPTING NOMINATIONS FOR OUR NEXT MEETING ON WEDNESDAY, FEBRUARY 10. PLEASE CLICK HERE TO NOMINATE.
Current Charity Nominations "In The Hat"

Education Foundation for Rockport
Essex County Greenbelt
The First R Foundation Inc.
Generous Gardeners
Gloucester Marine Genomics Institute
Gloucester Stage Company
Harborlight Community Partners
Maritime Gloucester
North Shore Health Project / ONESTOP Harm Reduction Center
The Open Door
Rose Baker Senior Center – Art Room
Sail GHS
Sunrise Fund, Inc.
Wags 2 Riches Dog Rescue
YMCA's Summer Learning Loss Program
Previous Charity Nominations

GIVING CYCLE 2 (June 1, 2020 – May 30, 2021)
* indicates charity award recipient
November 2020
Cape Ann Kids Holiday Fund*
Wags 2 Riches Dog Rescue
YMCA's Summer Learning Loss Program
July 2020
The Grace Center*
Essex County Greenbelt
The First R Foundation
GIVING CYCLE 1 (June 1, 2019 – May 30, 2020)
May 2020
Gloucester Emergency Relief Fund (via Action, Inc.)* – due to the pandemic, the group was unable to meet; therefore the Steering Committee donated the 4th quarterly funds to an organization on the frontlines of mitigating COVID-19 impact on Cape Ann's most vulnerable citizens.
January 2020
Gloucester Education Foundation – O'Maley After School Program*
Rose Baker Senior Center – Art Program
YMCA of North Shore – Summer Learning Loss Program
October 2019
Backyard Growers*
Gloucester Stage Company
The Open Door
July 2019
Wellspring Education Resource Collaborative*
The Grace Center – Women's program
Gloucester Education Foundation – O'Maley After School Program
Charity Recipients

Our November 2020 gift of $10,100 to the Cape Ann Kids Holiday Fund (a collaboration between Pathways for Children, Action Inc., and Wellspring House, Inc.) will enable 101 kids to receive a $100 holiday gift card. With so many families struggling with lost wages, lack of childcare, and financial instability, the need in our community is greater than ever. Like much of our lives right now, toy drives and "Holiday Stores" need to look different this year. Current restrictions prevent the three organizations from providing 'in person' holiday toy shopping, as they have done in the past. These gift cards will offer families the safest, most flexible option to provide that special toy or item for their children.
The Grace Center will use their July 2020 gift of $14,200 to connect under-served and homeless guests to vital services during the COVID-19 pandemic. With the existing budget, the Grace Center is unable to meet the new needs for transportation and technology services.  Like everyone, guests want and need to get back to work and turn to our staff for employment help – a service staff is not well equipped to provide. Taxis must be used to get to Doctor appointments, detox facilities, pick-up prescriptions and go to job interviews. Cell phones and iPads are needed so that guests can make onsite private medical calls and employment inquiries.  Increased resources could provide employment apps and virtual employment programs /guides.  Funding from 100 Who Care Cape Ann will both support Grace Center guests' basic needs and help them move forward during these challenging times.
The Cape Ann Emergency Relief Fund (via Action, Inc.) will use their gift of $11,600 in May 2020 to help hourly workers impacted by the COVID-19 crisis. The Fund will support food service, retail, hospitality, childcare and other hourly workers struggling with lost income.
Gloucester Education Foundation will use their January 2020 gift of $12,400 to support the O'Maley Academy After School Program, which provides quality after-school and summer programs to hundreds of kids each year, at no cost to their families.  O'Maley Academy offers classes and activities in subjects ranging from theater, to robotics, to video journalism, and gives kids the opportunity to explore new interests, make new friends, and find a place where they feel safe and connected to a community of supportive peers and adults.
Backyard Growers will use their gift of $11,825 in October 2019 to support their school garden program, which reaches 100% of pre-K through 7th graders in Gloucester Public Schools (over 1,800 kids!) with a true seed-to-fork experience. It will also enable them to rebuild and expand their garden at Gloucester preschool with new, narrower beds that are more accessible to little ones, and launch a new gardening program for O'Maley Middle School 8th graders in collaboration with O'Maley teachers.
Wellspring Educational Resource Collaborative (WERC): A gift of $14,000 in July 2019 will support the salary of a Youth and Young Adult Counselor. WERC is a program designed to help high school seniors and graduates of Gloucester High School advance in their careers and education. WERC provides mentorship and resources for college, occupational education, or job searches.
Cape Ann Charities We Know About

Action, Inc.
Agape Brewing
American Legion Post 3
Annisquam Association
Annisquam Village Players
AYC STP
Backyard Growers
Cape Ann Amateur Radio Association Inc.
Cape Ann Animal Aid
Cape Ann Art Haven
Cape Ann Farmers' Market
Cape Ann Interfaith Commission
Cape Ann Museum
Cape Ann Symphony Orchestra
Cape Ann Vernal Pond Team
Cape Ann Youth Lacrosse
Chargers Youth Program
Company 2 Heroes – Veteran Service Dog Training Program
COMPASS
Day by Day Adult Care, Inc.
Family Health Productions
Family Promise
First R Foundation
Friends of Gloucester Council on Aging
Global Initiatives
Gloucester Adventure, Inc.
Gloucester Education Foundation
Gloucester Fisherman's Wives Assoc
Gloucester Little League
Gloucester Marine Genomics Institute, Inc.
Gloucester Museum School
Gloucester Police Relief Assoc
Gloucester Stage
Gloucester Meetinghouse Foundation
Grace Center of Gloucester
Kestrel Education
Lanesville Community Center
Magnolia Library Center
Maritime Gloucester
NAMI Cape Ann
North Shore Health Project
Northwest Atlantic Marine Alliance (NAMA)
Ocean Alliance
Open Door
Police Assisted Addiction and Recovery Initiative
Pathways for Children
Rising Minds
Rocky Neck Art Colony
RSVP Volunteers of the North Shore
Sail GHS
Sawyer Free Library
Seaside Sustainability, Inc.
SeniorCare, Inc
To Show We Care
Wags 2 Riches Dog Rescue
Wellspring House Inc.
YMCA North Shore – Cape Ann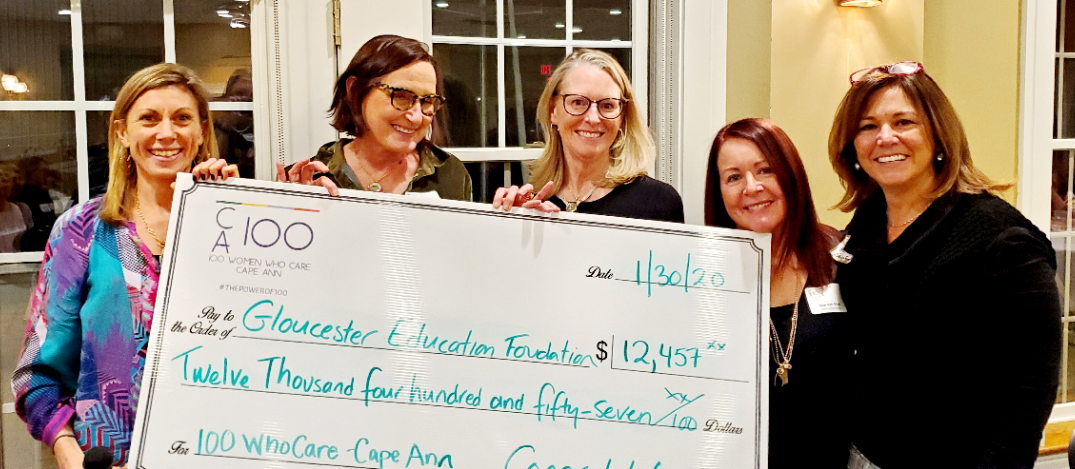 Charities helped (so far)
Adults & children impacted
100 WOMEN. $100. 1 HOUR. $10,000 DONATION TO A CAPE ANN CHARITY.