Nominate a Charity

Charities Being Presented At The Next Meeting

We are currently accepting charity nominations until December 15, 2019 for our January 30, 2020 meeting. Nominated charities will be announced by January 7, 2020.
Current Charity Nominations "In The Hat"

The First R Foundation Inc.
Gloucester Education Foundation (O'Maley after school program)
Gloucester Marine Genomics Institute
Gloucester Stage Company
The Grace Center (Women's program)
Harborlight Community Partners
Maritime Gloucester
North Shore Health Project / ONESTOP Harm Reduction Center
The Open Door
Rose Baker Senior Center (Art Room)
Sail GHS
YMCA of the North Shore (Cape Ann YMCA)
Previous Charity Nominations

October 2019:
Backyard Growers*
Gloucester Stage Company
The Open Door
July 2019:
Wellspring Education Resource Collaborative*
The Grace Center (Women's program)
Gloucester Education Foundation (O'Maley after school program)
* indicates charity recipient
Charity Recipients

Backyard Growers will use their gift of $10,844 in October 2019 to support their school garden program, which reaches 100% of pre-K through 7th graders in Gloucester Public Schools (over 1,800 kids!) with a true seed-to-fork experience. It will also enable them to rebuild and expand their garden at Gloucester preschool with new, narrower beds that are more accessible to little ones, and launch a new gardening program for O'Maley Middle School 8th graders in collaboration with O'Maley teachers.
Wellspring Educational Resource Collaborative (WERC): A gift of $12,584 in July 2019 will support the salary of a Youth and Young Adult Counselor. WERC is a program designed to help high school seniors and graduates of Gloucester High School advance in their careers and education. WERC provides mentorship and resources for college, occupational education, or job searches.
Cape Ann Charities We Know About

Action, Inc.
Agape Brewing
American Legion Post 3
Annisquam Association
Annisquam Village Players
AYC STP
Backyard Growers
Cape Ann Amateur Radio Association Inc.
Cape Ann Animal Aid
Cape Ann Art Haven
Cape Ann Farmers' Market
Cape Ann Interfaith Commission
Cape Ann Museum
Cape Ann Symphony Orchestra
Cape Ann Vernal Pond Team
Cape Ann Youth Lacrosse
Chargers Youth Program
Company 2 Heroes – Veteran Service Dog Training Program
COMPASS
Day by Day Adult Care, Inc.
Family Health Productions
Family Promise
First R Foundation
Friends of Gloucester Council on Aging
Global Initiatives
Gloucester Adventure, Inc.
Gloucester Education Foundation
Gloucester Fisherman's Wives Assoc
Gloucester Little League
Gloucester Marine Genomics Institute, Inc.
Gloucester Museum School
Gloucester Police Relief Assoc
Gloucester Stage
Gloucester Meetinghouse Foundation
Grace Center of Gloucester
Kestrel Education
Lanesville Community Center
Magnolia Library Center
Maritime Gloucester
NAMI Cape Ann
North Shore Health Project
Northwest Atlantic Marine Alliance (NAMA)
Ocean Alliance
Open Door
Police Assisted Addiction and Recovery Initiative
Pathways for Children
Rising Minds
Rocky Neck Art Colony
RSVP Volunteers of the North Shore
Sail GHS
Sawyer Free Library
Seaside Sustainability, Inc.
SeniorCare, Inc
To Show We Care
Wags 2 Riches Dog Rescue
Wellspring House Inc.
YMCA North Shore – Cape Ann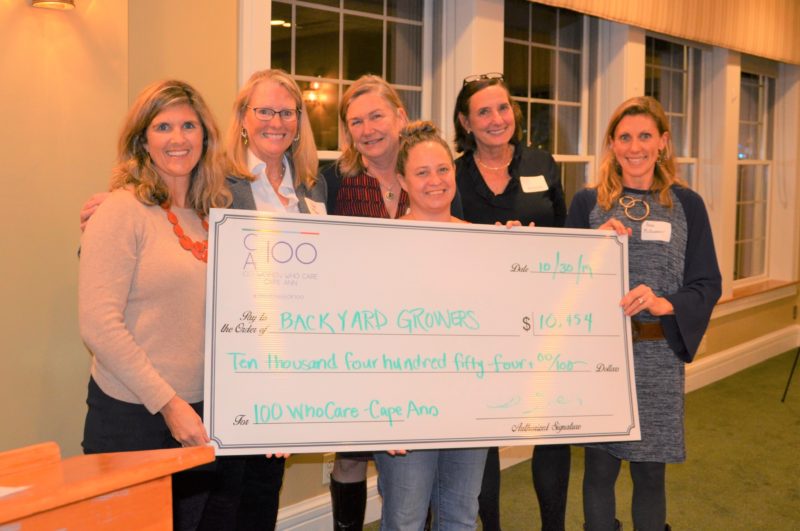 Charities helped (so far)
Adults & children impacted
100 WOMEN. $100. 1 HOUR. $10,000 DONATION TO A CAPE ANN CHARITY.